MODEL KEPEMIMPINAN PAULUS: SEBUAH STUDI EKSPOSISI SURAT FILEMON
David Susilo Pranoto

Sekolah Tinggi Teologi Arastamar Bengkulu
Keywords:
Model, Exposition, Leadership
Abstract
An important part of human life is leadership. Without human leaders do not understand how to direct their responsibilities. In this article try to contribute about the leadership model of an apostle Paul. In this article we will describe the principle of leadership through the Apostle Paul's life experience. Expected through this writing is to add insight into Christians who are entrusted with leadership responsibilities. So it leads to leadership that glorifies God.
Abstract View: 357,

pdf Download: 2143
Downloads
Download data is not yet available.
References
Barclay, William,
2001 Pemahaman Alkitab Setiap Hari: 1 dan 2 Timotius, Titus, Filemon, Jakarta: PT BPK Gunung Mulia.
Bergant, Dianne,
2002 Tafsiran Alkitab Perjanjian Baru,
Yogyakarta: Anggota IKPI.
C. Tenney, Merill,
2008 Survei Perjanjian Baru II, Jakarta: PT BPK Gunung Mulia. Echols, John,
2010 Kamus Besar Bahasa Indonesia,
Jakarta: Gramedia.
Ma'mur, Jamal,
2009 Manajemen Pengelolaan dan Kepemimpinan Pendidikan Professional. Yogyakarta: DIFA Press
Octavianus,
2013 Manajemen dan Kepemimpinan Menurut Wahyu Allah,
Subardrijo, Bambang,
2010 Menyingkap Pesan-Pesan Perjanjian Baru,
Jakarta: Bina Media Informasi.
Susanto, Hasan,
2014 Perjanian Baru Interlinier – Yunani Indonesia dan Konkordansi Perjanian Baru Jilid I, Jakarta: Lembaga Alkitab Indonesia.
Utley, Bob,
2011 Kumpulan Komentari Panduan Belajar Perjanjian Baru, Vol 8, Bible Lesson International.
Tu'u, Tulus,
2010 Pemimpin Kristiani Yang Berhasil,
Bandung: Bina Media Informasi.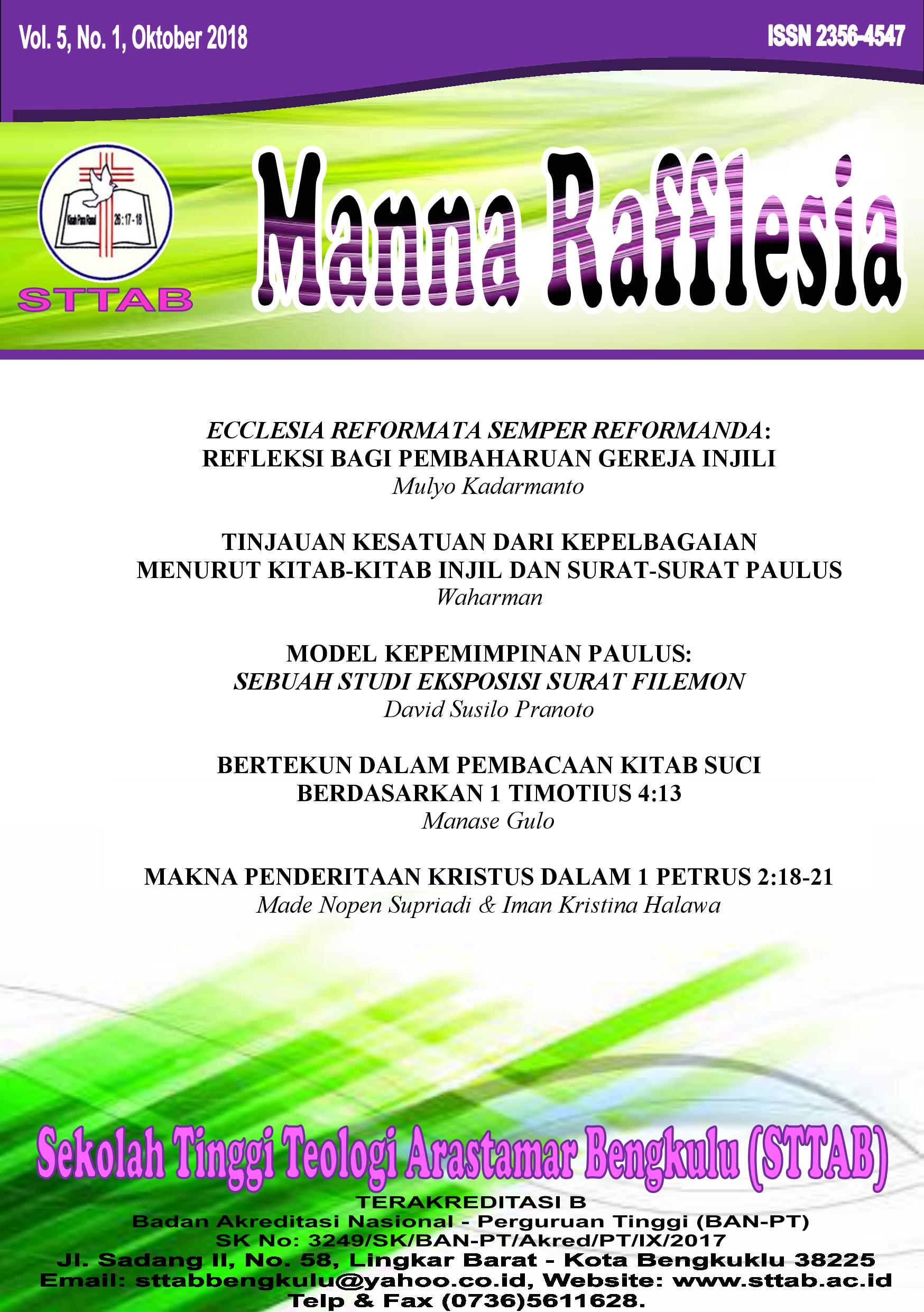 How to Cite
Pranoto, D. S. (2018). MODEL KEPEMIMPINAN PAULUS: SEBUAH STUDI EKSPOSISI SURAT FILEMON. Manna Rafflesia, 5(1), 37-49. https://doi.org/10.38091/man_raf.v5i1.97