GEORGE WILHELM FRIEDRICH HEGEL: MORALITAS DAN STRUKTUR SOSIAL
David Susilo Pranoto

Sekolah Tinggi Teologi Arastamar Bengkulu
Keywords:
Morality, Social Structure
Abstract
Studying philosophy brings people to think about the meaning of life, but learning Theology brings people to understand the meaning of life. But humans also need to think about morality and social structure. The basic thinking about morality and social structure is contained in the thinking section of a philosopher named G.W.F. Hegel Therefore this article was written with the aim of critically examining Hegel's philosophy of morality and social structure from the perspective of the Bible to build a concept of morality and social structure based on the Bible of God's Word.
Abstract View: 159,

pdf Download: 360
Downloads
Download data is not yet available.
References
Barker, Kenneth
1985 The New International Version Study Bible. Grand Rapids: Zondervan.
J. D. Douglas (Gend. Ed.)
1996 The New International Dictionary of the Christian Church.Grand Rapids: Zondervan Publish. House.
Geisler, Norman L. dan Paul D. Feiberg
2001 Filsafat Dari Perspektif Kristiani. Malang: Gandum Mas
Geisler, Norman L. Geisler
2000 Baker Encyclopdia of Christian Apologetics. Grand Rapids: Baker Books House
Hegel, George Wilhelm Friedrich,
2002 Filsafat Sejarah (terjemahan). Yogyakarta: Pustaka Pelajar
Morris, William (Gen.Ed.)
1990 The Grolier International Dictionary,Vol. 1. Danbury: Grolier Inc., 1990.
Mounce, Robert H.
1986 The Amrican Commentary. Oregon: Broadman & Holman Publish.
Salim, Peter
2006 The Contemporary English-Indonesian Dictionary. Jakarta: Media Eka Pustaka
Suseno, Franz Magnis
2001 Filsafat Sebagai Ilmu Kritis . Yogyakarta: Kanisius
Stoot, John R.W.
1994 The Message of Romans. Leicester: Inter-Varsity Press
Zodhiates, Spiros
1993 The Complete Word Study Dictionary. Chattanooga: AMG Publish.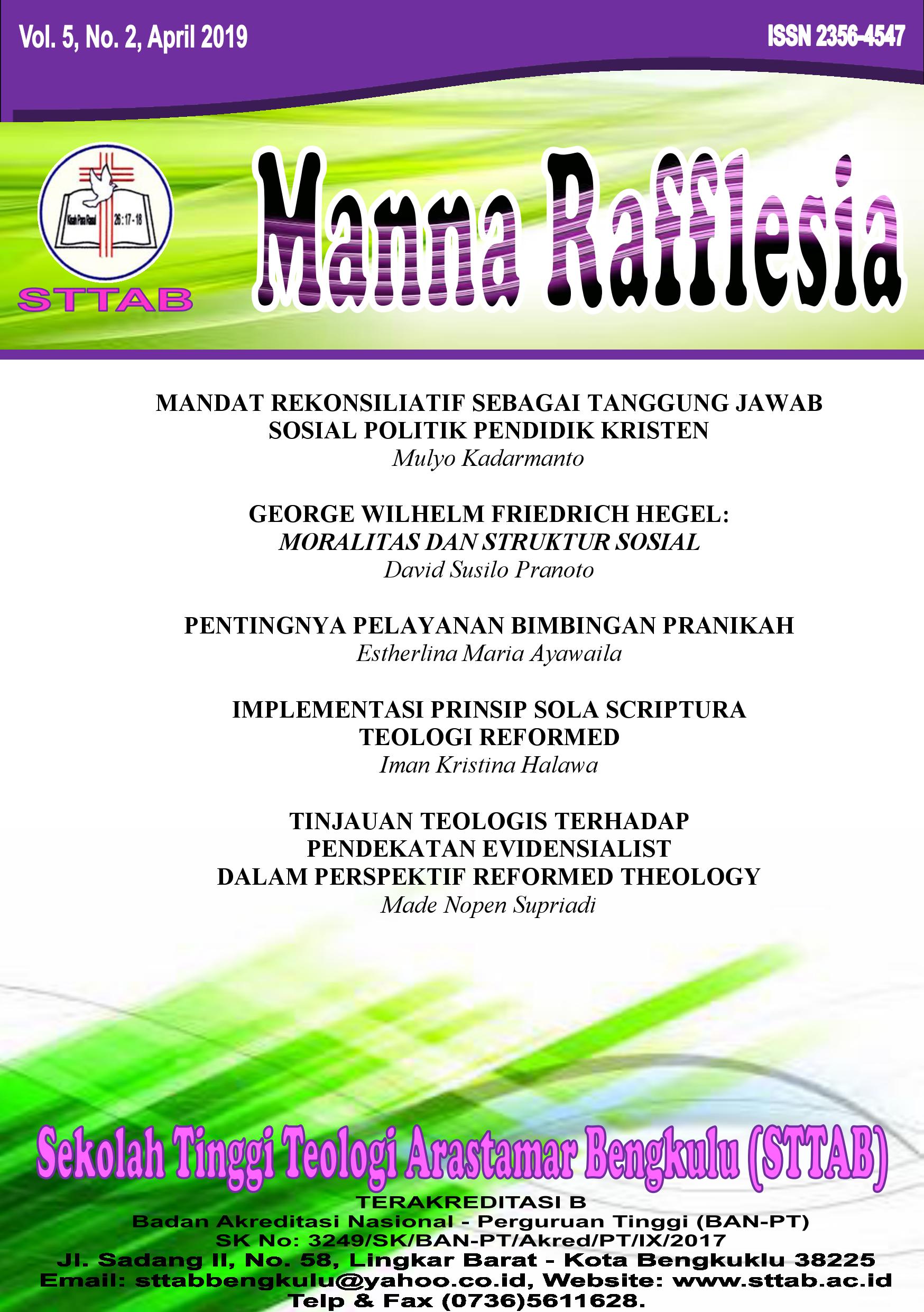 How to Cite
Pranoto, D. S. (1). GEORGE WILHELM FRIEDRICH HEGEL: MORALITAS DAN STRUKTUR SOSIAL. Manna Rafflesia, 5(2), 103-108. https://doi.org/10.38091/man_raf.v5i2.103