RANCANG BANGUN TEOLOGI LOKAL SANGKAN PARAN BAGI PEWARTAAN INJIL DI PAGUYUBAN NGESTI TUNGGAL CARUBAN
Yehudha Andrew Sugito

Sekolah Tinggi Teologi Baptis Indonesia, Semarang, Indonesia

Aji Suseno

Sekolah Tinggi Teologi Baptis Indonesia, Semarang
Keywords:
sangkan paran, pangestu, local theology, church mission, evangelism, kejawen
Abstract
The encounter between the Gospel and culture often creates tensions. Some of these tensions can be found in some issues of evangelization in the midst of Indonesia's diverse ethnicities and cultures. Local theology is both a strategy and a way out of this problem. Designing and building local theology must be connected to local cultural values. One of the local cultural values raised in this research is sangkan paran found in the Javanese community in Paguyuban Ngesti Tunggal (Pangestu). Through qualitative research methods using interviews, documents and desk research, the values of sangkan paran are explored and assessed from a biblical perspective, resulting in several findings. The findings show many points of convergence as well as points of difference between Pangestu's concept of sangkan paran and that of the Bible. All of these findings become material for the design of local theology that is actualized in the proclamation of the Gospel to the Javanese community in Pangestu Caruban.
Abstract View: 73,

Pdf Download: 30
Downloads
Download data is not yet available.
References
Adiprasetya, Joas. "Teologi Konstruktif: Tren Berteologi Masa Kini." Makalah Kuliah Umum Fakultas Teologi Universitas Kristen Artha Wacana, Kupang. Kupang, April 24, 2019.
Adji, Hariawan, Ema Faiza, and Julia Indarti. "Konsep 'Selamat' Dalam Ajaran 'Manunggaling Kawula Gusti' Kepercayaan Manusia Jawa (Kejawen)." Surabaya, June 2, 2006.
Bistara, Raha. "Sangkan Paraning Dumadi Sebagai Laku Salik Dalam Serat Sabdajati R. Ng Ronggowarsita." Shahih: Journal of Islamicate Multidisciplinary 7, no. 2 (2022): 139–50.
Ciptoprawiro, Abdullah. Filsafat Jawa. Balai Pustaka, 1986.
Creswell, John W. Research Design: Pendekatan Metode Kualitatif, Kuantitatif Dan Campuran. Yogyakarta: Pustaka Pelajar, 2021.
Crisp, Oliver D. God, Creation, and Salvation: Studies in Reformed Theology. Londok: T&T Clark, 2020.
Dunkring, Ahmad Solahuddin. "The Basic Elements of Paguyuban Ngesti Tunggal." KALAM 12, no. 1 (July 3, 2018): 67–86. https://doi.org/10.24042/klm.v12i1.2020.
Endraswara, Suwardi. Falsafah Hidup Jawa. Tangerang: Cakrawala, 2003.
Hamzah, Amir. Metode Penelitian Kepustakaan (Library Research): Kajian Filosofis, Teoretis Dan Aplikasi Proses Dan Hasil. Depok: Rajawali Pers, 2022.
Harefa, Febriaman Lalaziduhu. "Menggunakan Konsep Inkarnasi Yesus Sebagai Model Penginjilan Multikultural." PASCA : Jurnal Teologi Dan Pendidikan Agama Kristen 16, no. 1 (2020): 50–61. https://doi.org/10.46494/psc.v16i1.75.
Harefa, Febriaman Lalaziduhu, and Jeane Paath. "Doing Mission Dalam Pendidikan Agama Kristen ( PAK ) Menyambut Era Society 5 . 0." SCRIPTA: Jurnal Teologi Dan Pelayanan Kontekstual 14, no. November (2022): 90–105.
Harianto, Yusup Heri. "Studi Perbandingan Konsep Iman Dan Perbuatan Menurut Paulus Dan Yakobus." Sabda: Jurnal Teologi Kristen 3, no. 2 (December 28, 2022): 35–49. https://doi.org/10.55097/sabda.v3i2.51.
Ijen, Ijen, and Polyongkico Polyongkico. "Analisis Pelayanan Filipus Sebuah Konsep Teologi Kontekstual Berdasarkan Kisah Para Rasul 8: 4-25." Jurnal Teologi Kontekstual Indonesia 1, no. 2 (January 1, 2021): 103. https://doi.org/10.46445/jtki.v1i2.337.
Japhets, Samuel. Creatio Ex Nihilo: The Omnipotent God Still Creates Out of Nothing, 2017. https://doi.org/10.13140/RG.2.2.20092.54400.
Kolis, Nur, and Kayyis Fithri Ajhuri. "Sangkan Paraning Dumadi: Eksplorasi Sufistik Konsep Mengenal Diri Dalam Pustaka Islam Jawa Prespektik Kunci Swarga Miftahul Djanati." Dialogia 17, no. 1 (June 26, 2019): 1. https://doi.org/10.21154/dialogia.v17i1.1653.
Lane, Tony. Runtut Pijar: Tokoh Dan Pemikiran Kristen Dari Masa Ke Masa. Jakarta: BPK Gunung Mulia, 2016.
Mahardhikasih, Qoyad. "Analisis Makna Konsep Sangkan Paraning Dumadi Dalam Kisah Nawaruci." Semarang, 2023.
Mawikere, Marde Christian Stenly, and Sudiria Hura. "Studi Mengenai Karakteristik Budaya Dan Multi Wajah Model Teologi Kontekstualisasi Injil." Jurnal Teologi Berita Hidup 5, no. 2 (March 29, 2023). https://doi.org/10.38189/jtbh.v5i2.342.
Mohamed, Noriah, and Yusmilayati Yunos. "Ilmu Dan Ngelmu Sebagai Satu Cara Mencari Pengetahuan." Sari - International Journal of the Malay World and Civilisation 27(2), 2009.
Nardiati, Sri, Suwadji, Sukardi Mp., Pardi, and Edi Suwatno. Kamus Bahasa Jawa - Bahasa Indonesia I. Jakarta: Pusat Pemblnaan dan Pengembangan Bahasa Departemen Pendidi kan dan Kebudayaan, 1993.
Nugroho, Sigit Sapto. Laku Dan Ngelmu Spiritual Jawa. Klaten: Penerbit Lakeisha, 2020.
Panjaitan, Firman. "Teo Ekologi Kontekstual Dalam Titik Temu Antara Kejadian 1:26-31 Dengan Konsep Sangkan Paraning Dumadi Dalam Budaya Jawa." Gema Teologika: Jurnal Teologi Kontekstual Dan Filsafat Keilahian 7, no. 2 (October 25, 2022): 223. https://doi.org/10.21460/gema.2022.72.931.
Pardede, Rio Janto. "Personal Evangelisation Method (PEM) Sebagai Pola Pendekatan Pekabaran Injil Dalam Konteks Pluralisme." Missio Ecclesiae 8, no. 1 (April 29, 2019): 81–92. https://doi.org/10.52157/me.v8i1.97.
Poerwadarminta, W.J.S. Boesastra Djawa. Batavia: J.B. Wolters Uitgevers, Maatchappu N.V. Groningen, 1939.
Prabowo, Paulus Dimas, and Jhon Kalaka. "Gereja Yang Berbagi Daya Dalam Misi Lintas Budaya: Kajian Misiologis Roma 15:22-33." Manna Rafflesia 9, no. 2 SE-Articles (April 30, 2023): 340–54. https://doi.org/10.38091/man_raf.v9i2.304.
Sahertian, Claudya Ingrid. "Sakralitas Burung Enggang Dalam Teologi Lokal Masyarakat Dayak Kanayatn." EPIGRAPHE: Jurnal Teologi Dan Pelayanan Kristiani 5, no. 1 (May 31, 2021): 58. https://doi.org/10.33991/epigraphe.v5i1.202.
Saputra, Jefri Andri. "Spiritualitas Pairan: Konstruksi Teologi Lokal Manusia Baru Konteks Mamasa Dalam Dialektika Pairan Dan Kolose 2:16-4:1." Tumou Tou 10, no. 2 SE- (July 31, 2023): 125–40. https://doi.org/10.51667/tt.v10i2.1225.
Schreiter, Robert J. Rancang Bangun Teologi Lokal. Jakarta: BPK Gunung Mulia, 2011.
Sedmak, Clemens. Doing Local Theology (Faith & Cultures Series): A Guide for Artisians of a New Humanity. New York: Orbis Books, 2002.
Setiawan, David Eko. "Menjembatani Injil Dan Budaya Dalam Misi Melalui Metode Kontektualisasi." Fidei: Jurnal Teologi Sistematika Dan Praktika 3, no. 2 (December 18, 2020): 160–80. https://doi.org/10.34081/fidei.v3i2.132.
Setiawan, Iwan, and Reagen Petrus Banea. "Kontekstualisasi Menurut Kisah Para Rasul 17:16-34." Te Deum (Jurnal Teologi Dan Pengembangan Pelayanan) 12, no. 2 (June 30, 2023): 359–78. https://doi.org/10.51828/td.v12i2.227.
Sihombing, Salomo, and Gerald Moratua Siregar. "Teologi Marsiadapari: Sebuah Konstruksi Teologi Lokal Dalam Perspektif Robert J. Schreiter Atas Hermeneutika Galatia 6:2." KAMASEAN: Jurnal Teologi Kristen 3, no. 1 (June 2, 2022): 1–17. https://doi.org/10.34307/kamasean.v3i1.106.
Soenarto Merowardojo, Raden. Bawa Raos Ing Salebeting Raos (Bisikan Suksma). Jakarta: Paguyuban Ngesti Tunggal, 1986.
———. Sasangka Jati. Jakarta: Paguyuban Ngesti Tunggal, 2004.
Strong, James. Greek Dictionary of The New Testament. Albany: AGES Software, 1997.
———. Greek Dictionary Of The New Testament. Albany: Books For The Ages, 1997.
Sugiyono. Metode Penelitian Kombinasi (Mixed Methods). Bandung: Penerbit Alfabeta, 2018.
Wahyu, Rita. Eksegesis Peshat Kitab Kejadian: Bereshit - Pada Mulanya. Malang: ISCS Lecture & Discipleship, 2018.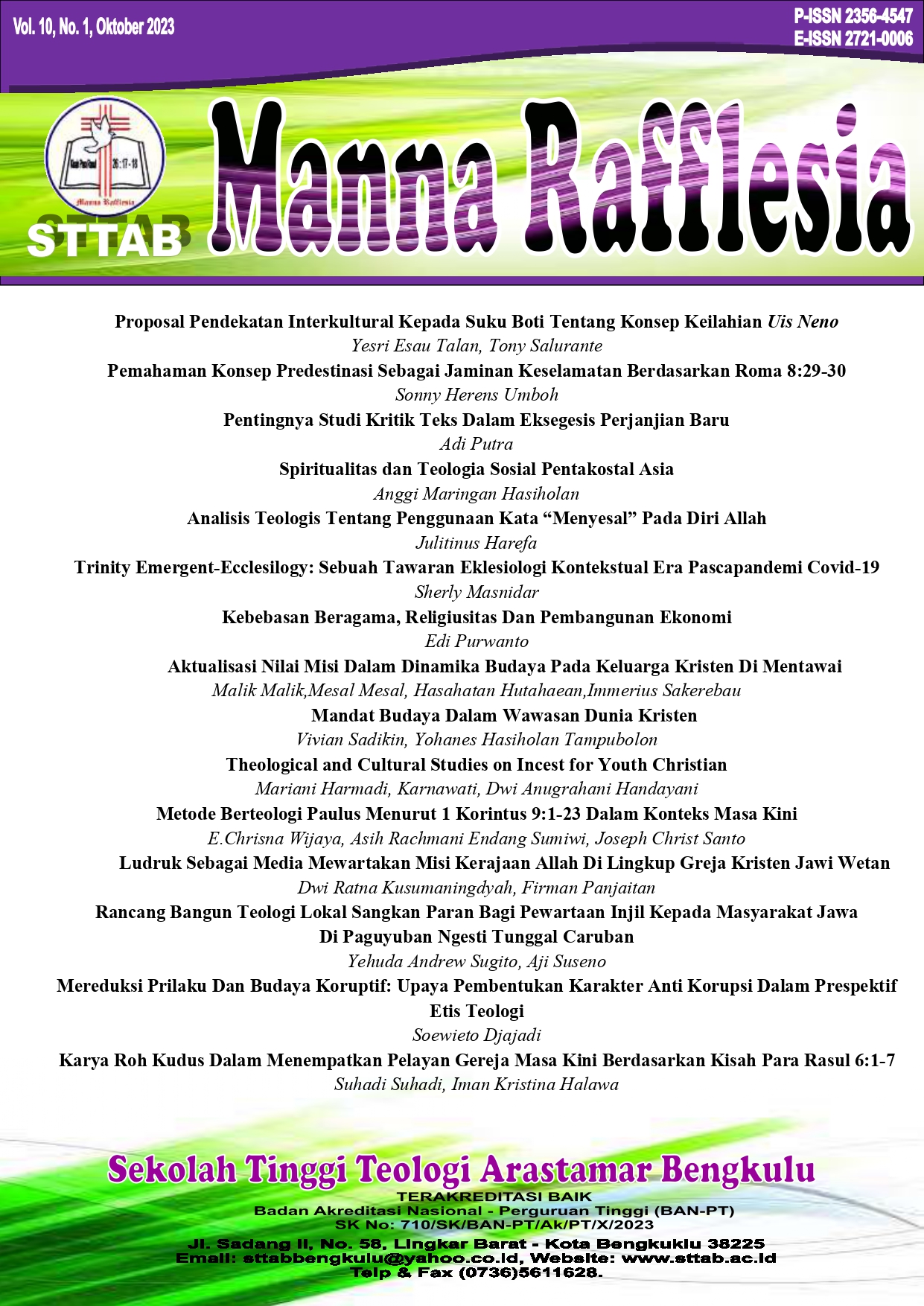 How to Cite
Sugito, Y. A., & Suseno, A. (2023). RANCANG BANGUN TEOLOGI LOKAL SANGKAN PARAN BAGI PEWARTAAN INJIL DI PAGUYUBAN NGESTI TUNGGAL CARUBAN. Manna Rafflesia, 10(1), 176-193. https://doi.org/10.38091/man_raf.v10i1.359
Copyright (c) 2023 Manna Rafflesia
This work is licensed under a Creative Commons Attribution-ShareAlike 4.0 International License.