KARAKTERISTIK SEORANG PELAYAN TUHAN BERDASARKAN 1 TIMOTIUS 3:1-7
Waharman Waharman

Sekolah Tinggi Teologi Arastamar Bengkulu
Keywords:
Characteristics, Servants of God
Abstract
God's servant is a noble status, the glory is not based on his position, material and wages. But the glory is found in the characteristics of His servants. It is the characteristic that maintains one's service and maintains its status of service as noble. But many cases show the difficulty of a service to maintain its characteristics. In Paul's letter to Timothy reminded him to be able to assign a servant with high value criteria. Therefore through this writing, I will give the principles and characteristics of a minister based on 1 Timothy 3: 1-7.
Abstract View: 653,

pdf Download: 2021
Downloads
Download data is not yet available.
References
..... (2007). Alkitab Terjemahan Baru, Jakarta: LAI.
Balz, Horst. dan Gerhard Schneider, Exegetical Dictionary Of The New Testament Volume 3, Germany : Kohlhammer.
Bible Works 7, CD-ROM.
Damazio, Frank. (2004). Memimpin Dengan Roh, Yogyakarta : ANDI.
Drewes, B. F. (2010). Kunci Bahasa Yunani Perjanjian Baru Surat Roma Hingga Wahyu, Jakarta : BPK Gunung Mulia.
Leigh, Ronald W. (2011). Melayani Dengan Efektif, Jakarta : BPK Gunung Mulia.
MacGrath, Alister E. (....). The NIV Thematic Study Bible.
Moulton, Harold K. (1978). The Analytical Greek Lexicon Revised, Grand Rapids: The Zondervan Corporation.
Nazir, Moh. (2014). Metode Penelitian, Bogor : Ghalia Indonesia.
Nelson, Alan E. (2011). Spritual Intelligence, Yogyakarta : ANDI.
Newman, Barclay M. (2014). Kamus Yunani-Indonesia Perjanjian Baru, Jakarta : Gunung Mulia.
Prayitno, Siswo, dan Hadi Podo. (2007). Kamus Besar Bahasa Indonesia, Jakarta : Pustaka Phoenix.
Sabdono, Erastus. (2017). Pelayanan Yang Sesungguhnya, Jakarta : Rehobot Literature.
Sopater, Sularso., dan Bambang Subandrijo. (1998). Kepemimpinan dan Pembinaan Warga Gereja, Jakarta : Pustaka Sinar Harapan.
Sribbs, A. M. (1996). Tafsiran Alkitab Masa Kini-Jilid 3, Jakarta : YKBK.
Sugiyono. (2015). Metode Penelitian Manajemen, Yogyakarta : ALFABETA.
Surjantoro, Bagus. (2001). Membangun Keluarga Untuk KemuliaanNya, Jakarta : Obor Mitra Indonesia.
Sutanto, Hasan. (2010). Perjanjian Baru Inteliniear Yunani-Indonesia jilid I dan Konkordansi PB (PBIK) Volume II, Jakarta: LAI.
Sutanto, Hasan. (2010). Perjanjian Baru Interlinear Yunani-Indonesia dan Konkordansi Perjanjian Baru (PBIK) Jilid I, Jakarta: LAI.
Trull, Joe E., dan James E. Carter. (2012). Etika Pelayanan Gereja, Jakarta : BPK Gunung Mulia.
Tu'u, Tulus. (2010). Pemimpin Kristiani Yang Berhasil 2, Bandung : Bina Media Informasi.
Welt, Don De. (1961). Paul's Letters To Timothy And Titus, Yerusalem : College Press.
Zodhiates, Spiros. (1993). The Complete Word Study Dictionary New Testament, Amerika: AMG International.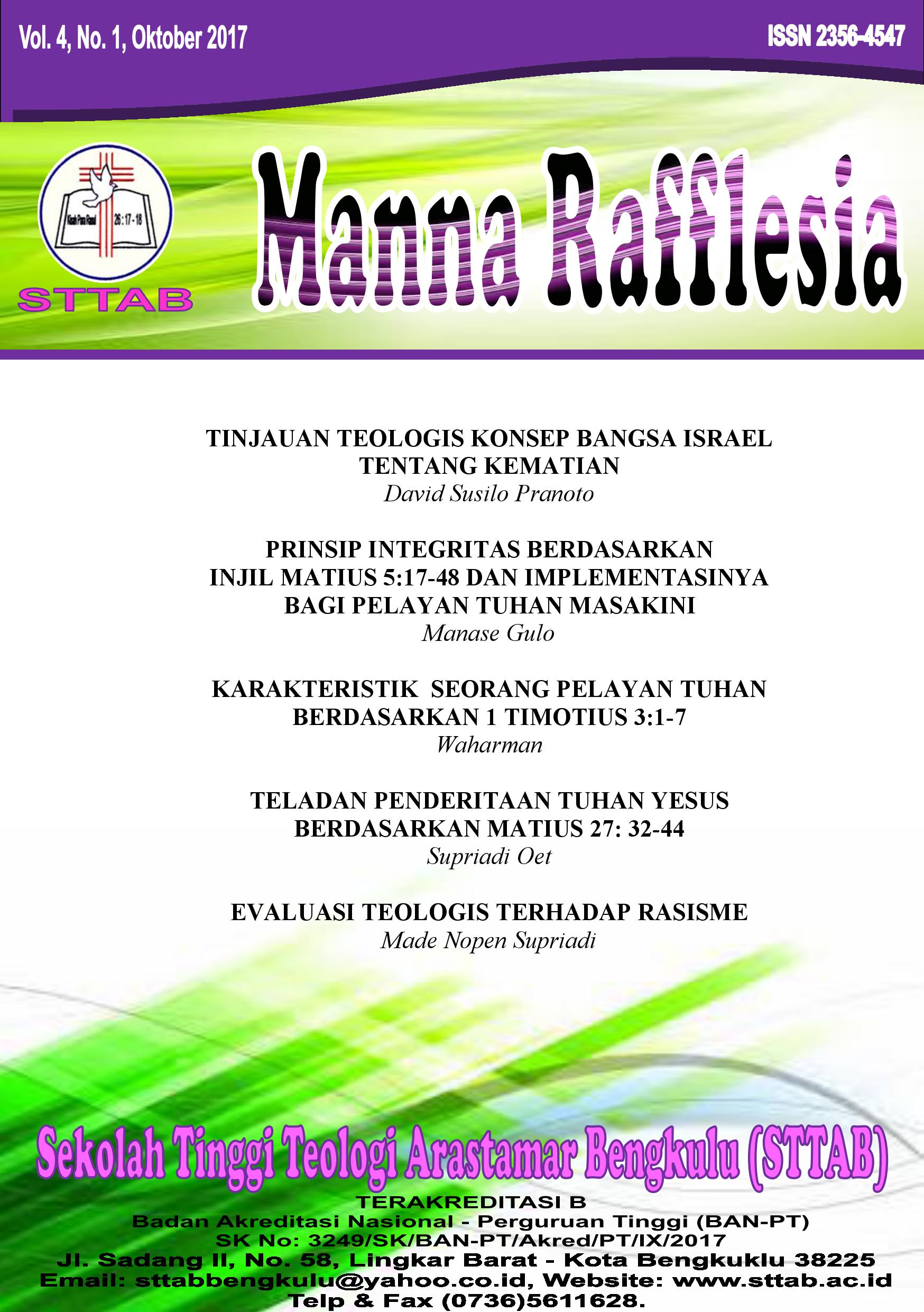 How to Cite
Waharman, W. (2017). KARAKTERISTIK SEORANG PELAYAN TUHAN BERDASARKAN 1 TIMOTIUS 3:1-7. Manna Rafflesia, 4(1), 37-56. https://doi.org/10.38091/man_raf.v4i1.80