KEPEMIMPINAN AHAB DALAM 1 RAJA-RAJA 21: 1-16 DALAM PERSPEKTIF HANNAH ARENDT TENTANG BANALITAS KEJAHATAN
Jhon Ferdinand Sihombing

Sekolah Tinggi Filsafat Theologi Jakarta
Keywords:
Leadership, Ahab, Banality of evil
Abstract
Leadership is something that everyone should have. Good leadership will bring oneself or others towards the best goals. Not infrequently those who are called leaders actually make their people miserable. Make position as an opportunity to fulfill their heart's desire. Ahab is an example of a leader who does not protect his people, but allows the law to be manipulated for his pleasure. Methods or prevention are needed so that Ahab's form of leadership does not recur. This paper aims to explore Ahab's Leadership in Hannah Arendt's Perspective on the Banality of Evil by using qualitative methods and a library study approach. Through this paper, it can be concluded that Ahab is the perpetrator of the banality of evil because of ideology, shallow thinking and blind obedience. In Hannah Arendt's thought, everyone must think and critically evaluate all things that are inside and outside of human beings.
Abstract View: 171,

Pdf Download: 157
Downloads
Download data is not yet available.
References
Arendt, Hannah. Eichmann in Jerusalem. Yogyakarta: Pustaka Pelajar, 2012.
———. The Human Condition. Chicago & London: The University of Chicago Press, 1998. https://doi.org/10.4324/9780203448540_chapter_1.
Astrini, Atik. "HOAX DAN BANALITAS KEJAHATAN." Transformasi 2, no. 1 (2017): 93–98. https://doi.org/10.1017/CBO9781107415324.004.
Baskoro, Paulus Kunto. "Tinjuan Teologi Kepemimpinan Berhati Hamba Menurut Filipi 2:1-11 Bagi Pembentukan Karakter Jemaat." EDULEAD: Journal of Christian Education and Leadership 2, no. 2 (2021): 143–57. https://doi.org/10.47530/edulead.v2i2.68.
Bodner, Keith. Old Testament Theologi: The Theology of the Book of Kings. The Theology of the Book of Kings. New York: Cambridge University Press, 2019. https://doi.org/10.1017/9781316414910.
Brueggemann, Walter. 1 & 2 KINGS: SMYTH & HELWYS BIBLE COMMENTARY. Georgia: Smyth&Helwys, 2000. https://doi.org/10.2307/j.ctt9m0v1j.14.
Cronauer, Patrick T. THE STORIES ABOUT NABOTH THE JEZREELITE. A Source, Composition, and Redaction Investigation of 1 Kings 21 and Passages in 2 Kings 9. Journal for the Study of the Old Testament Supplement Series. London: T&T Clark, 2005.
Dase, Admadi Balloara. "Kontribusi Hermeneutis 1 Raja-Raja 21 Terhadap Konflik Agraria Di Indonesia." BIA': Jurnal Teologi Dan Pendidikan Kristen Kontekstual 2, no. 1 (2019). https://doi.org/10.34307/b.v2i1.88.
Hilson, David F. Sejarah Israel Pada Zaman Alkitab. Jakarta: BPK Gunung Mulia, 2001.
Jena, Yeremias. "Refleksi Hannah Arendt Atas Pengadilan Adolf Eichmann Di Yerusalem." Respons: Jurnal Etika Sosial 14, no. 2 (2009). https://doi.org/https://doi.org/10.25170/respons.v14i02.410.
Kambodji, Omnesimus, and Paulus Sugeng Widjaja. "Tinjauan Teologis-Etis Terhadap Banalitas Kejahatan Korupsi." DUNAMIS: Jurnal Teologi Dan Pendidikan Kristiani 6, no. 1 (2021): 262–81. https://doi.org/10.30648/dun.v6i1.525.
Karman, Yonki. Bunga Rampai Teologi Perjanjian Lama. Jakarta: BPK Gunung Mulia, 2004.
Lozowick, Yaacov. Hitler's Bureaucrats The Nazi Security Police and the Banality of Evil. New York: Contonium, 2000.
McConville, J G. God and Earthly Power: An Old Testament Political Theology Genesis - Kings. London: T&T Clark, 2006.
Nicolas, Djone Georges, and Tirza Manaroinsong. "KRISIS KETELADANAN KEPEMIMPINAN GEREJA: FONDASI GEMBALA SEBAGAI PEMIMPIN GEREJA BERDASARKAN 1 PETRUS 5:2-4." Syntax Idea 3 (2021).
Peter J. Leithart. 1&2 Kings Brazos Theological Commentary on the Bible. Michigan: Branzo Press, 2006.
Pitalokah, Rieke Diah. Banalitas Kekerasan: Telaah Pemikiran Hannah Arendt Tentang Kekerasan Negara. Depok: Koekoesan, 2010.
Risdiana, Aris, and Reza Bakhtiar Ramadhan. "Dakwah Virtual Sebagai Banalitas Keberagamaan Di Era Disrupsi." Fikrah 7, no. 1 (2019): 133–53. https://doi.org/10.21043/fikrah.v7i1.4800.
Sirait, Ronal G. "PROBLEMATIKA PERAMPASAN KEBUN ANGGUR NABOT DALAM 1 RAJA-RAJA 21:1-29." Teologi SIAP. Suci Iman Akademis Dan Praktis 7, no. 2 (2018).
Suhadi, and Yonatan Alex Arifianto. "Pemimpin Kristen Sebagai Agen Perubahan Di Era Milenial." EDULEAD: Journal of Christian Education and Leadership 1, no. 2 (2020): 129–47. https://doi.org/10.47530/edulead.v1i2.32.
Sunarto. "Kepemimpinan Menurut Alkitab Dan Penerapannya Dalam Kepemimpinan Lembaga Kristen." TE DEUM (Jurnal Teologi Dan Pengembangan Pelayanan) 5, no. 1 (2015): 95–116. https://doi.org/10.51828/td.v5i1.114.
Tiran, Rex. "Banalitas Kejahatan Dan Radikalisme Di Indonesia." Jurnal Politicon IX, no. 1 (2020).
Wray Beal, Lissa M. 1 & 2 Kings: Apollos Old Testament Commentary. Illinois: IVP Academic, 2014.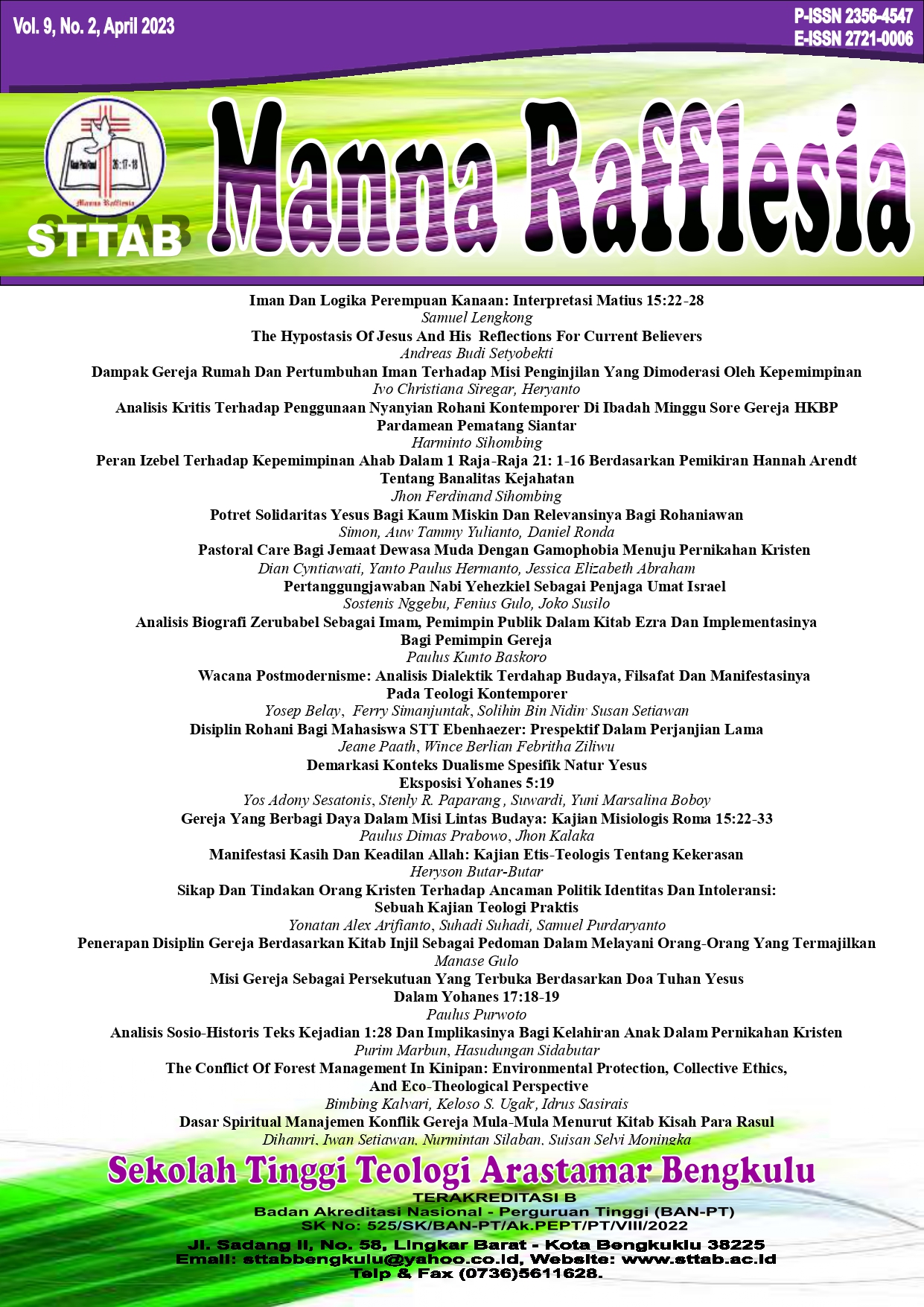 How to Cite
Sihombing, J. F. (2023). KEPEMIMPINAN AHAB DALAM 1 RAJA-RAJA 21: 1-16 DALAM PERSPEKTIF HANNAH ARENDT TENTANG BANALITAS KEJAHATAN. Manna Rafflesia, 9(2), 220-233. https://doi.org/10.38091/man_raf.v9i2.281
Copyright (c) 2023 Manna Rafflesia
This work is licensed under a Creative Commons Attribution-ShareAlike 4.0 International License.