PROPOSAL PENDEKATAN INTERKULTURAL KEPADA SUKU BOTI TENTANG KONSEP KEILAHIAN UIS NENO
Yesri Esau Talan

Sekolah Tinggi Teologi Sabda Agung

Tony Salurante

Sekolah Tinggi Teologi Injili Arastamar (SETIA) Jakarta
Keywords:
Proposal, Intercultural theology, Concept of Divinity Uis Neno, Boti tribe
Abstract
The intercultural approach is effective in its application in the context of the Boti tribe because this tribe is exclusive and considers the Bible as a foreign culture that threatens the halaika culture. The exclusive attitude of the Boti tribe is carried out on the basis of maintaining the halaika culture so that it does not experience assimilation and is eroded with the times. The intercultural approach is a biblical missionary approach. This approach uses the Boti tribal concept of uis neno as a medium to communicate about God. The method used in this study is a qualitative research, the data obtained through interviews, documentation and observations are described with other reference sources related to this research. The results obtained in this study are, the intercultural approach is a biblical missional approach and its application is persuasive in the context of the Boti tribe. The culture they understand and practice is used as a medium of gospel communication.
Abstract View: 100,

Pdf Download: 62
Downloads
Download data is not yet available.
References
Bavinck, Herman. Dogmatika Reformed Jilid II: Allah Dan Penciptaan. Edited by Salomon Yo. 1st ed. Surabaya: Momentum, 2012.
Benu, Nama. Wawancara Tentang Tujuan Melakukan Ritual-Ritual Terhadap Uis Neno Dan Uis Pah. Soe, 2021.
Benu, Namah. Wawancara Tentang Ritual-Ritual Suku Boti Terhadap Uis Neno Dan Uis Pah. Soe, Timor Tengah Selatan, 2021.
Carson, D.A. Kristus Dan Kebudayaan. Edited by Irwan Tjulianto. 1st ed. Surabaya: Momeentum, 2016.
———. Kristus Dan Kebudayaan. Edited by Stevy Tilar dan Lukman Purwanto. 1st ed. Surabaya: Momentum, 2018.
Deviana, Intan. "6 Fakta Unik Suku Boti NTT, Bukti Keragaman Budaya Di Timur Indonesia." IDN Times. Last modified 2016. Accessed February 24, 2021. https://www.idntimes.com/travel/destination/intan-deviana-safitri/6-fakta-unik-suku-boti-ntt-c1c2/4.
Falo, Marthen. Wawancara Dengan Salah Satu Suku Kie Tentang Ritual Penyembahan Arwah. Soe, 2022.
Frame, John M. Teologi Sistematika. Edited by Daniel Agustinus. 1st ed. Bandung: Yayasan IOTA, 2019.
Gmainer-Pranzl, Franz. "How to Do Intercultural Theology." Interreligious Studies and Intercultural Theology 1, no. 1 (2017): 99–103.
Gulo, Manase. "Hamba Yang Baik Dan Setia." In Kesetiaan Yang Memahat Hati, edited by Tony Salurante Adi Putra, Malik Bambangan, 67. 1st ed. Jakarta: BPK Gunung Mulia, 2021.
Haselgrave, David J. Kontekstualisasi. Edited by Staf Redaksi BPK Gunung Mulia. 19th ed. Jakarta: BPK Gunung Mulia, 2019.
Herawati Sandiningtyas, Bambang Budi Wiyono. "PENDIDIKAN BERBASIS BUDAYA LOKAL SUKU BOTI: STUDI KASUS DI SDN SMPN SATU ATAP OEFAU DESA BOTI NUSA TENGGARA TIMUR." Ilmu Pendidikan: Jurnal Kajian Teori dan Praktik Kependidikan 3, no. 1 (2018): 78. http://journal2.um.ac.id/index.php/jktpk/article/view/4435/2935.
Husaini Usman, Purnomo Setiadi Akbar. Metodologi Penelitian Sosial. 1st ed. Jakarta: Bumi Aksara, 1996.
Keda, Amar Ola. "Mengenal Kehidupan Warga Boti Suku Asli Timor Yang Menolak Modernisasi." Liputan 6. Last modified 2018. Accessed February 14, 2021. https://www.liputan6.com/regional/read/3625090/mengenal-kehidupan-warga-boti-suku-asli-timor-yang-menolak-modernisasi.
Küster, Volker. "Intercultural Theology Is a Must." International Bulletin of Missionary Research 38, no. 4 (2014): 171–176.
Moon, W Jay. Intercultural Discipleship. Edited by A. Scott Moreau. 1st ed. United States Of America: Baker Academic, 2017.
Pehiadang, Nelly Agustin. "Mendialogkan Kekristenan Di Suku Boti Dan Halaika: Upaya Berteologi Secara Kontekstual." Universitas Kristen Duta Wacana, 2019. https://katalog.ukdw.ac.id/152/1/01140024_bab1_bab5_daftarpustaka.pdf.
Petrus Ana Andung, Hotlief Arkilaus Nope. "PENGALAMAN MASYARAKAT ADAT BOTI DALAM MEMANFAATKAN MEDIA RAKYAT UNTUK PEMBANGUNAN (STUDI FENOMENOLOGI PENGGUNAAN BONET)." Jurnal Penelitian Pers dan Komunikasi Pembangunan 20, no. 1 (2016): 63.
Petrus Ana Andung, Hotlif Arkilaus Nope. "MEDIA RAKYAT SEBAGAI MEDIA KOMUNIKASI PEMBANGUNAN MASYARAKAT SUKU BOTI." Ilmu Komunikasi 14, no. 2 (2017): 97. https://ojs.uajy.ac.id/index.php/jik/article/view/870.
Rustyana, Nezia Mavitau. "The The Boti-Christian Engagement in Interreligious Cultural Dialogue: Response to Environmental Crisis on Timor Island." GEMA TEOLOGIKA: Jurnal Teologi Kontekstual dan Filsafat Keilahian 7, no. 1 (April 29, 2022): 73. https://journal-theo.ukdw.ac.id/index.php/gemateologika/article/view/754.
Setiawan, David Eko. "Menjembatani Injil Dan Budaya Dalam Misi Melalui Metode Kontektualisasi." Fidei: Teologi Sistematika Dan Praktika 3, no. 2 (2020): 160. https://stt-tawangmangu.ac.id/e-journal/index.php/fidei/article/view/132/pdf.
Silitonga, Roedy. "IMPLIKASI HUBUNGAN KRISTUS DAN BUDAYA DALAM BERBAGAI KONTEKS PENGINJILAN YANG DIHADAPI MURID KRISTUS." Jurnal Theologia Forum STFT Surya Nusantara 8, no. 2 (2020): 3.
Somawati, Ayu Veronika. "Uis Neno Dan Uis Pah Dalam Kepercayaan Suku Boti." In Prociding, 128. Kupang: STAH Negeri Kuturan Singaraja, 2020. https://scholar.google.com/scholar?cluster=15374948146462917732&hl=en&as_sdt=0,5.
Sugiyono. Metode Penelitian Kualitatif Dan Kuantitaif Dan R & D. 1st ed. Bandung: ALFABETA, 2013.
Talan, Yesri. Wawancara Dengan Usif Boti Tentang Tradisi Boti. Soe, 2021.
Tupper, E Frank, and Martin Luther. "The Providence of God in Christological Perspective." Review & Expositor 82, no. 4 (December 19, 1985): 579–595. http://journals.sagepub.com/doi/10.1177/003463738508200408.
Veeger, K.J. Ilmu Budaya Dasar. Edited by Apoly Bala. 1st ed. Jakarta: Gramedia Pustaka Utama, 1992.
Wendel, Francois. Calvin: Asal Usul Dan Perkembangan Pemikiran Religiusnya. Edited by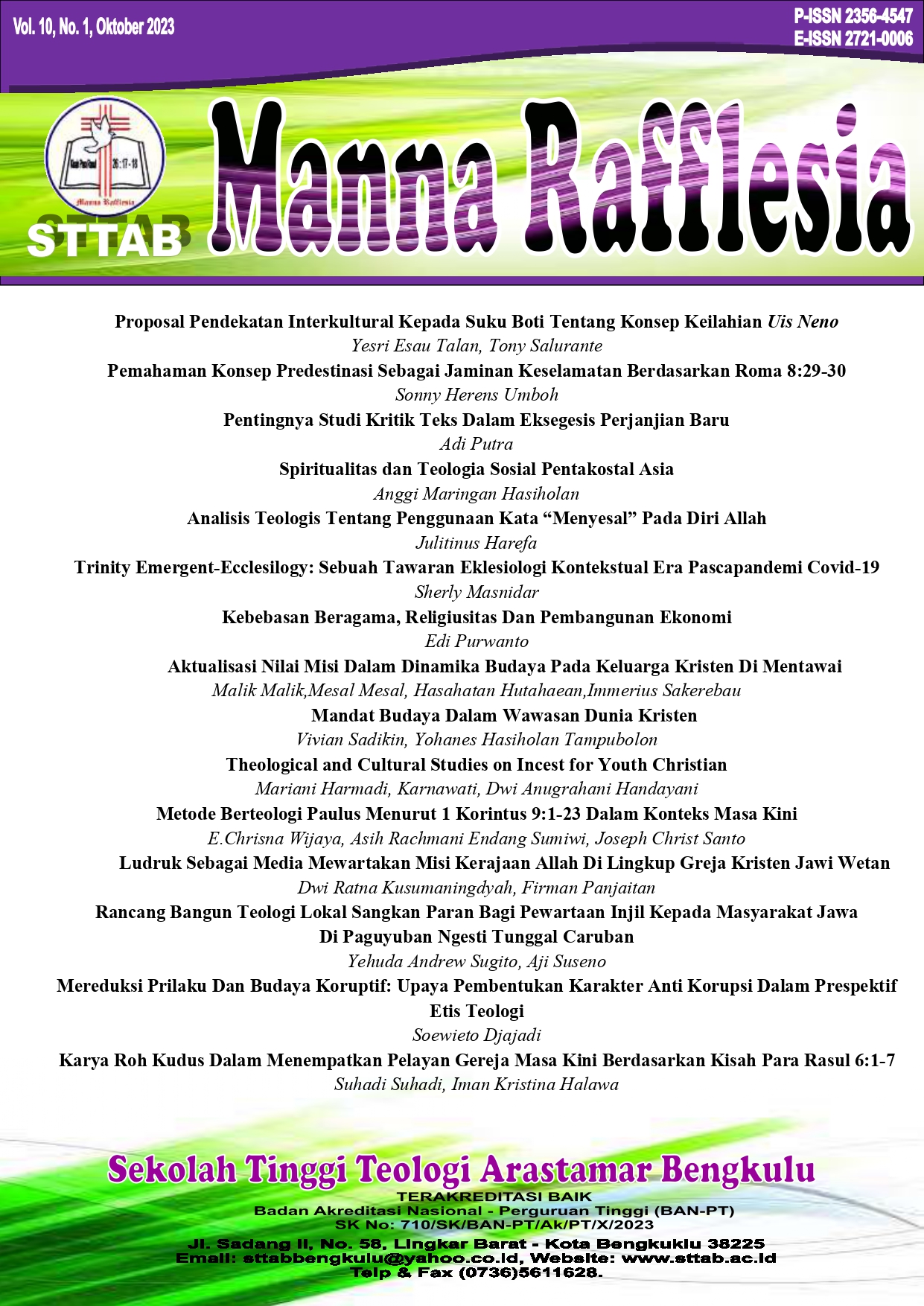 How to Cite
Talan, Y. E., & Salurante, T. (2023). PROPOSAL PENDEKATAN INTERKULTURAL KEPADA SUKU BOTI TENTANG KONSEP KEILAHIAN UIS NENO. Manna Rafflesia, 10(1), 1-16. https://doi.org/10.38091/man_raf.v10i1.276
Copyright (c) 2023 Manna Rafflesia
This work is licensed under a Creative Commons Attribution-ShareAlike 4.0 International License.