Hubungan Pemahaman Pelayanan Dan Panggilan Dengan Kesetiaan Pengerja Di Gereja
Wirianto Ng

Sekolah Tinggi Teologi Sumatera Utara

Gundari Ginting

Sekolah Tinggi Teologi Sumatera Utara

Lukgimin Aziz

Sekolah Tinggi Teologi Sumatera Utara
Keywords:
Calling to Serve, Faithfulness in Ministry, Understanding of Servanthood
Abstract
This study aims to determine the existing relationship, both partially and mutually between understanding of servanthood and calling to serve and faithfulness in the ministry of all workers. The place of this research was conducted at My Family GBI. The research method used was an ex post facto pattern and quantitative. They concluded that there was a linear and significant relation between variable X1 (understanding of servanthood) and variable Y (faithfulness in ministry in church). So does X1 and X2 and Y. Every worker to realize that they were saved by God and repay God's kindness by serving Him in church. It is recommended that this research can be used as one of the guidance as a foundation of ministering life by servants in God's field.
Abstract View: 805,

pdf Download: 580
Downloads
Download data is not yet available.
References
Blackaby, Henry, dan Tom Blackaby. The Man God Uses. Singapore: B&H Books, 2001.
Braga, Anthony A., David M. Hureau, dan Andrew V. Papachristos. "An Ex Post Facto Evaluation Framework for Place-Based Police Interventions." Evaluation Review 35, no. 6 (2012): 592–626. https://doi.org/10.1177/0193841X11433827.
Cho, Yonggi, dan Wayde Goodall. Faith: Believing In The God Who Works On Your Behalf. Wisconsin: BroadStreet Publishing Group, LLC, 2017.
Cooke, Tony. Qualified: Serving God With Integrity And Finishing your Course With Honor. Tulsa: Harrison House, Inc, 2012.
Darmawan, I Putu Ayub. "Jadikanlah Murid: Tugas Pemuridan Gereja Menurut Matius 28:18-20." Evangelikal: Jurnal Teologi Injili dan Pembinaan Warga Jemaat 3, no. 2 (2019): 144–53. https://doi.org/10.46445/ejti.v3i2.138.
Feucht, Sean, dan Andy Byrd. Integrity: Character Of The Kingdom. New Kensington: Whitaker House., 2016.
Gulo, Manase. "Prinsip Integritas Berdasarkan Injil Matius 5:17-48 Dan Implementasinya Bagi Pelayan Tuhan Masakini." Manna Rafflesia 4, no. 1 (2017): 16–36. https://doi.org/10.38091/man_raf.v4i1.79.
Handayani, Dessy. "Isu-isu Kontemporer dalam Jabatan Gerejawi." Kurios 3 No.1 (2015): 66–75. https://doi.org/10.30995/kur.v3i1.28.
Horsfall, Tony. Servant Ministry: A Portrait Of Christ And A Pattern For His Followers. Abingdon: Bible Reading Fellowship, 2013.
Hutahaean, Hasahatan. "Dan Siapapun Yang Memaksa Engkau Berjalan Sejauh Satu Mil, Berjalanlah Bersama Dia Sejauh Dua Mil Matius 5:41." Dalam Tuhan Memberi Yang Terbaik: Kumpulan Refleksi Iman dan Pelayanan, disunting oleh Stenly R. Paparang, 18–23. Luwuk: Pustaka Star's Lub, 2019.
———. "Memahami 'Menjadi Saksi' Tafsir Struktur Yesaya 44:1-8." Dalam Menabur Kasih Menuai Jiwa, disunting oleh Stenly R Paparang, 171–82. Jakarta: Departemen Literatur dan Media Arastamar (Delima), 2016.
Jost, Kenneth. "Ex Post Facto." Dalam The Supreme Court A to Z, 5 ed., 197–197. CQ Press, 2014. https://doi.org/10.4135/9781452234373.n131.
Laia, Kejar Hidup. "Sikap Hamba Tuhan terhadap Jemaat yang Mundur dari Pelayanan." Illuminate 3, no. 1 (2020): 40–60. https://doi.org/621-7732.
Life Application Study Bible. Red Letter. Grand Rapids: Zondervan, 2017.
Oladipo, Emmanuel. Flawed Saints. Disunting oleh Hans Wuysang. Jakarta: Pancar Pijar Alkitab, 2014.
P.D, Sugiono. Metode penelitian pendidikan pendekatan kuantitatif.pdf. Metode Penelitian Pendidikan Pendekatan Kuantitatif, Kualitatif Dan R&D, 2014.
Prihanto, Agus. "Peran Proses Mentoring Pemimpin Kaum Muda Bagi Perkembangan Pelayanan Pemuda Di Gereja." Jaffray 16, no. 2 (2018): 175–96. http://dx.doi.org/10.25278/jj71.v16i2.258.
Purnomo, David Pan. Menjawab Pertanyaan-Pertanyaan Kontemporer. Malang: SAAT, 1994.
Solomon, Robert M. God in Pursuit: Lessons from the Book of Jonah. Jakarta-Indonesia: Discovery House, 2017.
Stevanus, Kalis. "Mengimplementasikan Pelayanan Yesus Dalam Konteks Misi Masa Kini Menurut Injil Sinoptik." FIDEI: Jurnal Teologi Sistematika dan Praktika 1, no. 2 (2018): :284-298. https://doi.org/10.34081/fidei.v1i2.21.
Sugiyono. "Metode Penelitian Kuantitatif,Kualitatif dan R&D." Ke-26, 2018.
Suharsimi, Arikunto. "Prosedur Penelitian : Suatu Pendekatan Praktik (Edisi Revisi)." Rineka Cipta, 2010. https://doi.org/10.1017/CBO9781107415324.004.
Supriadi, Made Nopen, dan Iman Kristina Halawa. "Makna Penderitaan Kristus Dalam 1 Petrus 2:18-21." Manna Rafflesia 5, no. 1 (2018): 69–91. https://doi.org/10.38091/man_raf.v5i1.99.
Suriawan, Suriawan. "Kebergantungan Pengkotbah Terhadap Peran Roh Kudus Dalam Persiapan Dan Penyampaian Firman Tuhan." Abdiel 2, no. 1 (2018): 105–22. https://doi.org/10.37368/ja.v2i1.64.
Towns, Elmer L, dan Dave Earley. Praying for Your Job-Prosperity, Fulfillment, Happiness. Shippensburg: Destiny Image Publishers, Inc, 2011.
Vujicic, Nick. Be The Hands And Feet: Living Out God's Love for All His Children. New York: WaterBrook, 2018.
Wahidmurni. "Penerapan Metode Penelitian Kuantitatif." Repository UIN Malang 1, no. 1 (2017): 287–295.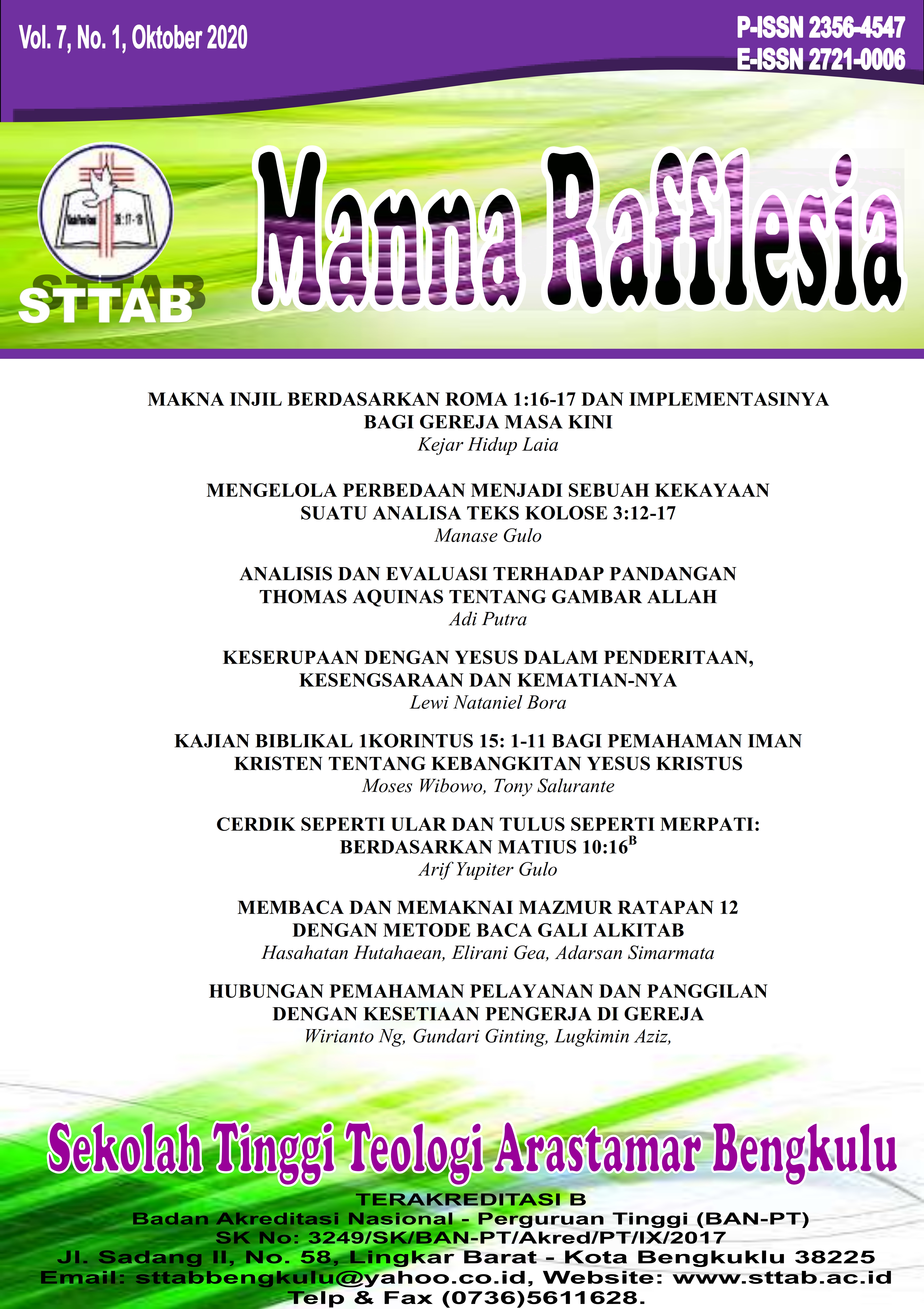 How to Cite
Ng, W., Ginting, G., & Aziz, L. (2020). Hubungan Pemahaman Pelayanan Dan Panggilan Dengan Kesetiaan Pengerja Di Gereja. Manna Rafflesia, 7(1), 158-187. https://doi.org/10.38091/man_raf.v7i1.134
Copyright (c) 2020 Manna Rafflesia
This work is licensed under a Creative Commons Attribution-ShareAlike 4.0 International License.