Cerdik seperti Ular dan Tulus seperti Merpati: Berdasarkan Matius 10:16b
Arif Yupiter Gulo

Sekolah Tinggi Teologi Pokok Anggur Jakarta
Keywords:
Kecerdikan, Ketulusan, Pelayanan
Abstract
In serving Him there are challenges that must be faced. Therefore, the Jesus give a strategy to face with according on Matthew 10:16 who is shrewd as serpents and harmless as doves. This article with qualitative research methods in the form of exegesis-hermeneutics. This exegetical method understands the meaning of the text of Matthew 10: 16b, which is indicated that in serving there is wisdom and sincerity that brings peace, because only peacemakers are became the children of God.
Abstract View: 777,

pdf Download: 725
Downloads
Download data is not yet available.
References
Bruce, William. Commentary on the Gospel According to ST Matthew,London, December 1866

Copeland, Mark A. The Gospel Of Matthew, Executable Outlines, Copyright © Mark A. Copeland, 2002

Heaster, Duncan. Verse by Verse Commentary on Gospel of Matthew, Christadelphian matthew gospel commentary verse, 2014

Susanto, Hasan. Perjanjian Baru Interlinear Yunani – Indonesia dan Konkordansi Perjanjian Baru (PBIK), Jilid I dan II, Jakarta: Lembaga Alkitab Indonesia, 2014

Spurgeon, Charles Haddon. Commentary On Matthew: The Gospel o The Kingdom, Westwood, Beulah Hill, Upper Norwood, 1893

Subagyo, Andreas B. Pengantar Riset Kuantitatif dan Kualitatif, Bandung: Yayasan Kalam Hidup,2014

Tomatala, Dr. Yakob dan Busthgan, Dr. Paskalinus. Penuntun Desain Riset bagi Program Tinggi Teologi, Jakarta: YT Leadership Foundation, 2010

Perschbacker, Wesley J.The New Analytical Greek Lexicon, Usa: Hendrikson Publisher, 1990

Pasaribu, Marulak. Ekposisi Injil Sinoptik, Malang: Gandum Mas, 2005

Utley, Dr. Bob. Free Bible Commentary, he First Christian Primer: Matthew, LaHabra: TheLockman Foundation, 2013

Yupiter Gulo, Arif. Relevansi Studi Eksegesis Konsep Penderitaan dalam Pelayanan Berdasarkan II Korintus 6:1-10 bagi Pengabdian Para Pelayan Tuhan di BNKP Filadelfia Cileungsi (Tesis Magister Teologi) Jakarta: STT Jaffray Jakarta, 2016.

Yupiter Gulo, Arif. Merayakan Anugerah Tuhan, Jawa Tengah: Pena Persada, 2020
Kamus Besar Bahasa Inonesia, online, diakses 27 Agustus 2020
Vine's Complete Exposistory Dictionary of Old and New Testament Word. New York: Thomas Nelson Publisher, 1985
Artikel Problematika dan Tantangan Gereja Masa Kini, https://ntt.kemenag.go.id/berita/502696/problematika-dan-tantangan-gereja-masa-kini--%C2%A0, diakses, 26 Agustus 2020

Artikel cerdik seperti ular dan tulus seperti merpati: shttps://artikel.sabda.org/cerdik_seperti_ular_tulus_seperti_merpati diakses 31 Agustus 2020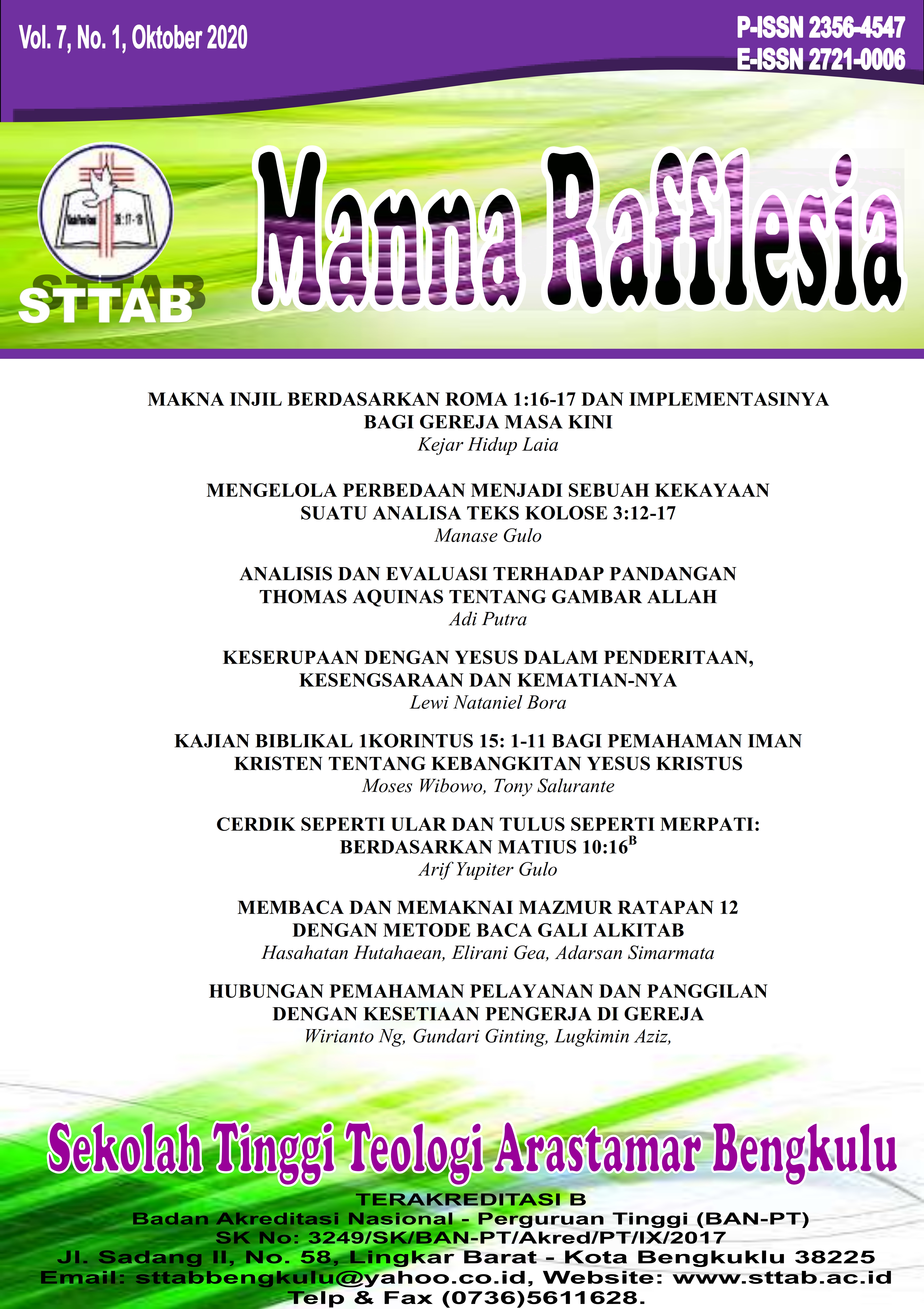 How to Cite
Gulo, A. Y. (2020). Cerdik seperti Ular dan Tulus seperti Merpati: Berdasarkan Matius 10:16b. Manna Rafflesia, 7(1), 116-134. https://doi.org/10.38091/man_raf.v7i1.129
Copyright (c) 2020 Manna Rafflesia
This work is licensed under a Creative Commons Attribution-ShareAlike 4.0 International License.