MANDAT REKONSILIATIF SEBAGAI TANGGUNG JAWAB SOSIAL POLITIK PENDIDIK KRISTEN
Keywords:
Christian educators, social politics, reconciliative mandate
Abstract
This paper aims to formulate a form of social political responsibility of Christian educators based on the work of reconciliation that was carried out by the Lord Jesus in his work of death and resurrection. By looking at the socio-political situation of the Indonesian people who are currently vulnerable to splitting with ethnic, religious and racial issues. This identity politics is used as a tool to gain victory in political battles. As Christian educators who are part of citizens and must contribute to the peace and tranquility of the Indonesian nation, Christian educators are indeed important to reflect on reconciliation work that is able to create peace, so that with this foundation the presence of Christian educators can neutralize the social political situation and can even be actively involved in uniting various parties both in the context of class and society.
Abstract Views:81 times
Downloads
Download data is not yet available.
References
Beale, G.K. A New Testament Biblical Theology. Grand Rapids: Baker Academic, 2013.
Erickson, Millard. Christian Theology, Third Edition. Grand Rapids: Baker Academic, 2013. https://id.scribd.com/read/235009669/Christian-Theology#
Kittel, Gerhard, Bromiley, Geoffrey William, Ed. and Tr, and Gerhard Friedrich, Theological Dictionary of the New Testament. Grand Rapids, MI: Eerdmans, 2006.
Knight, George R. Filsafat dan Pendidikan: Sebuah Pendahuluan Dari Perspektif Kristen. Tangerang: Universitas Pelita Harapan Press, 2009.
M'Caig, Archibald. International Standard Bible Encyclopedia. "Reconcile; Reconciliation". https://biblehub.com/topical/r/reconciliation.htm
Pazmino, Robert W. God Our Teacher: Theological Basics in Christian Education. Grand Rapids: Baker cademic, 2012.
Scheiner, Thomas R. New Testament Theology: Magnifying God in Christ. Grand Rapids: Baker Academic, 2013.
Van Der Valk, Ineke. "Racism, A Threat to Global Peace" International Journal of Peace Studies 8, no. 2 (2003): 45-66. http://ezproxy.library.uph.edu:2056/stable/41852901.
https://nasional.kompas.com/read/2017/12/26/15330181/bahaya-isu-sara-melebihi-bahaya-politik-uang
http://nasional.republika.co.id/berita/nasional/hukum/18/02/24/p4mdsz330-kabareskrim-penyebar-hoax-sara-lebih-bahaya-dari-orang-gila
https://nasional.kompas.com/read/2018/12/06/09043751/kemendagri-mulai-rekam-e-ktp-untuk-pemilih-pemula
https://pilkada.tempo.co/read/1073128/isu-sara-dianggap-masih-jadi-primadona-di-pilkada-2018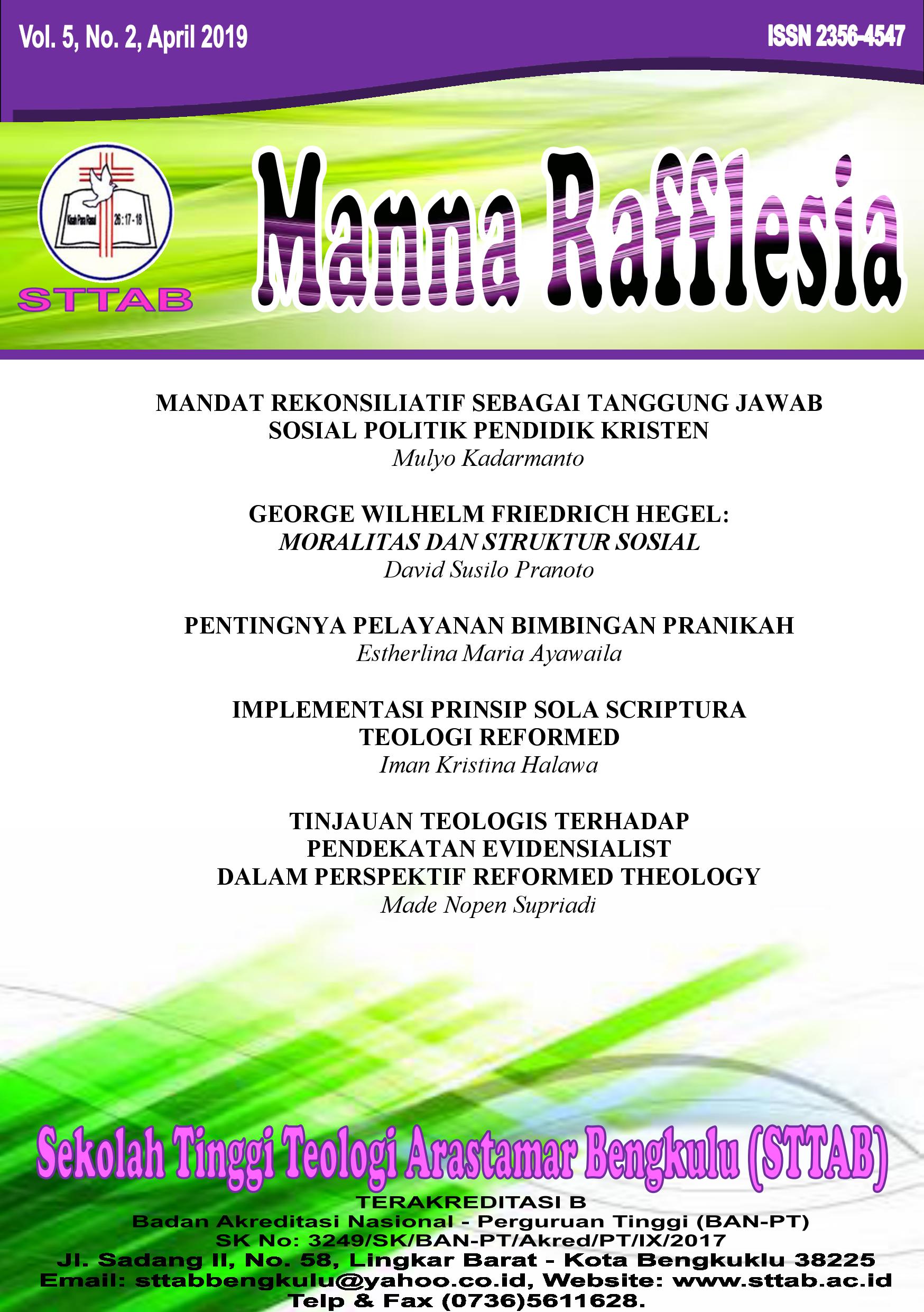 How to Cite
Kadarmanto, M. (1). MANDAT REKONSILIATIF SEBAGAI TANGGUNG JAWAB SOSIAL POLITIK PENDIDIK KRISTEN. Manna Rafflesia, 5(2), 93-102. https://doi.org/10.38091/man_raf.v5i2.102